1 800 123 1234
1 800 123 1235
P.O. BOX 160001
1 LONE MOUNTAIN TRAIL
BIG SKY, MT 59716
800.548.4486
Club rules
1.

No smoking in the packing area (clubhouse) or near any skydiving equipment.

2.

No spectators beyond the beer line, at any time.

3.

3 Only skydivers and pilots are allowed at boarding point – NOBODY ELSE.

4.

Skydivers with less than 100 jumps, may not use a canopy smaller than 170sq. ft. Unless by consent of the Chief Instructor

5.

Only pro rated skydivers may land in front of the club. All other jumpers must land in the student landing area with the "pit" as the target area.

6.

The next load must kit up and move to boarding point as soon as the previous load takes off...whether there is a refuel or not.

7.

All student gear must be packed inside the clubhouse, in the packing area provided.

8.

No swooping the lawn area.

9.

No alcohol to be consumed when on duty (manifest and instructor).

10.

No drinking 8 hours prior to jumping.
Club facilities: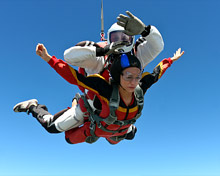 Nam ac auctor ipsum. Duis non tellus non risus placerat adipiscing. Mauris volutpat, nunc quis tempus pulvinar, urna ipsum ultricies dolor, nec scelerisque nunc diam quis lectus. Nulla eget tortor leo, non pretium felis. Vestibulum elementum tempus eleifend. Cum sociis natoque
Duis non tellus non risus placerat adipiscing. Mauris volutpat, nunc quis tempus pulvinar, urna ipsum ultricies dolor, nec scelerisque nunc diam